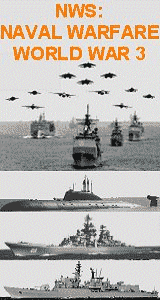 Hi everyone,
We are starting our next board wargame production covering the hypothetical modern naval battles of the Cold War; Naval Warfare - WW3.
Planned release date is estimated for Q2 2009.
NW-WW3 will be a comprehensive board game that will also be very playable with miniatures and based on our Naval Warfare series of board game designs.
Please visit our forums for some further details.
http://forums.navalwarfare.org/forumdisplay.php?f=12
Thanks.